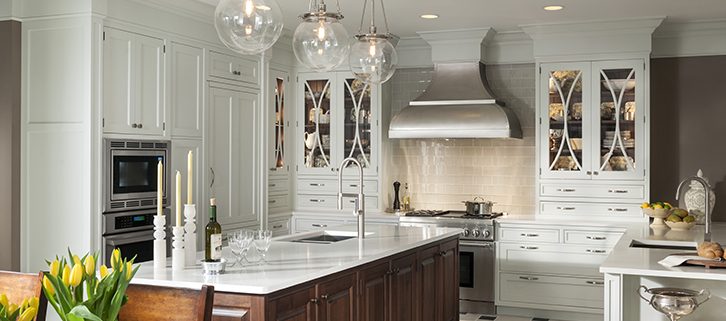 ORIGINAL AUTHOR: Catherine Whitney. Catherine is a Wood-Mode designer and studio manager at South End Kitchens in Charlotte, NC. She has 30 years of experience in both renovation and new construction projects within the kitchen and bath industry and has extensive knowledge and understanding of all aspects of the project, including cabinetry, appliances, flooring, lighting, countertops, backsplashes and more. She has designed homes in Connecticut, New York, North Carolina, and South Carolina.
---
Some homeowners are well-versed in construction terminology and the ups and downs of new construction or renovation. Others have never been involved in a home project that is as complicated as the design and execution of a custom kitchen or master bath. In my conversations, I often hear many myths. As a professional with over 30 years of experience, I feel that it's my duty to help educate and inform prospective clients about everything they will encounter. Here are some of the most common misconceptions:
Myth: A local cabinetmaker can produce my cabinetry in less time than a custom factory that is located out of town.
Fact: High-quality custom cabinetry takes time. The average lead time for quality custom cabinetry is likely a minimum of six weeks, but could be as long as 10-12 weeks, depending on the complexity of the finish and construction materials.
Myth: If I buy locally, it will cost less money.
Fact: The price of your custom cabinetry is consistent with the quality of materials, design and craftsmanship of the product. If the price is too low, ask questions so that you can make informed decisions that will leave you confident with your purchase. Remember, this is fine furniture for your home!
Myth: There isn't much difference between one painted finish and another.
Fact: Quality painted cabinetry should receive high-quality sealer, primer and catalyzed color coats to ensure beauty and lifetime durability. Extensive hand sanding is performed between each catalyzed color coat, ensuring a satin smooth surface. A lifetime warranty should be extended on the best finishes.
Myth: Particleboard is bad.
Fact: Similar to wood selection, there are many levels of quality in manufacturing particleboard. Particleboard or engineered wood must be made with the right kind of wood fibers, compression, and manufacturing techniques in order to produce high-quality material. Some of the high-end cabinet manufacturers extend a lifetime warranty to include particleboard just like the plywood options that are available. Engineered wood is more resistant to moisture and has minimized expansion and contraction issues, compared to solid wood. This increased stability means it performs better than plywood and is considered a superior product for painted or opaque finishes.
Myth: I will save money if I install the cabinets myself or hire my own carpenter.
Fact: It's possible that you will save money, but you will miss a great opportunity to have the experience of a trained cabinet installer. If you're going to pay someone, it's best to use the cabinet supplier's handpicked installer. This ensures the oversight and management of your designer and cabinet supplier, beginning to end. Your kitchen doesn't have to cost a fortune. An experienced cabinet installer can make or break your kitchen design, so why not let the professionals who designed and sold your product install it, too?
Myth: I will save money by acting as my own general contractor and decorator.
Fact: Construction and design are sequential processes that require careful planning. When you hire a general contractor or decorator, you are hiring experience and a deep network of trade labor and products. As the homeowner, these relationships benefit you greatly. These professionals can organize the process and coordinate your project. Everyone wants the best price and quality and since "time is money," your project will run most efficiently and cost effectively.
http://genevacabinet.com/wp-content/uploads/2017/06/Six-Classic-Custom-Cabinetry-Myths.jpg
352
726
Geneva Cabinet Company
/wp-content/uploads/2017/05/geneva-cabinets.png
Geneva Cabinet Company
2017-06-26 09:27:36
2017-09-21 08:31:29
6 Classic Custom Myths About Cabinetry