Gone are the days when a 4″ x 4″ kitchen backsplash tile would dazzle your day.  The backsplash now plays a leading role in establishing the design aesthetic for your kitchen, and even your entire home.   Browse through our top trends and be inspired to make a personal backsplash style statement.
Solid Slab Backsplash
Solid slabs ooze luxury and are available at a variety of price points.   The Installation of these sometimes gigantic stone pieces is not for the faint-of-heart.  Watch this installation video to see how it's done.
As you can see perfect measurements and strategic planning are a necessity, but the results are worth it!  The streamline simplicity of this look is enhanced when the countertops match.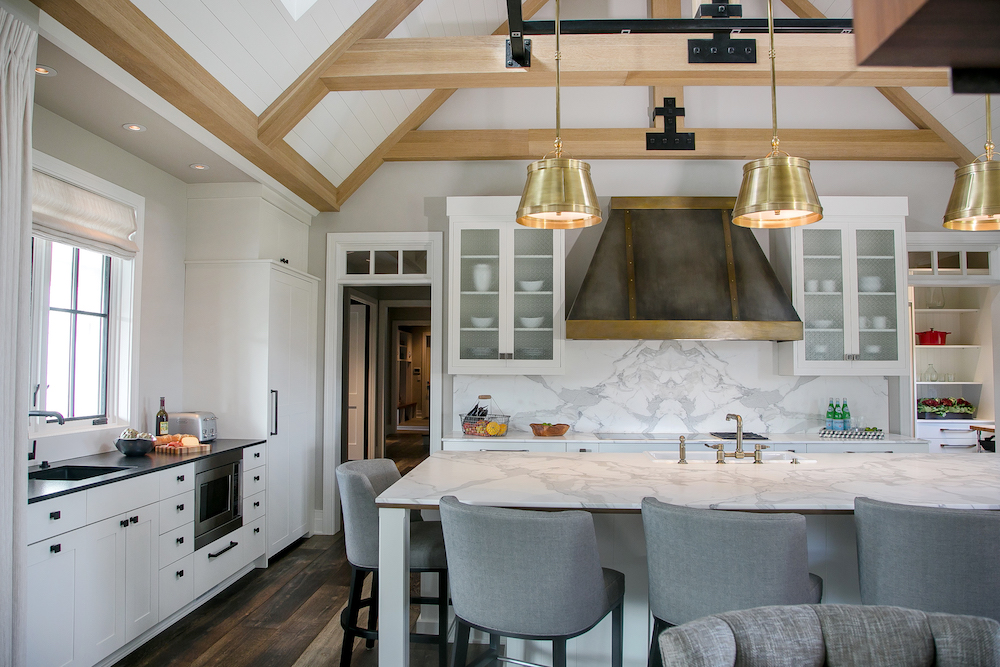 There is a natural elegance to this backsplash treatment that is appropriate for every area of the home.  Here it is used in a beverage bar adjacent to the great room.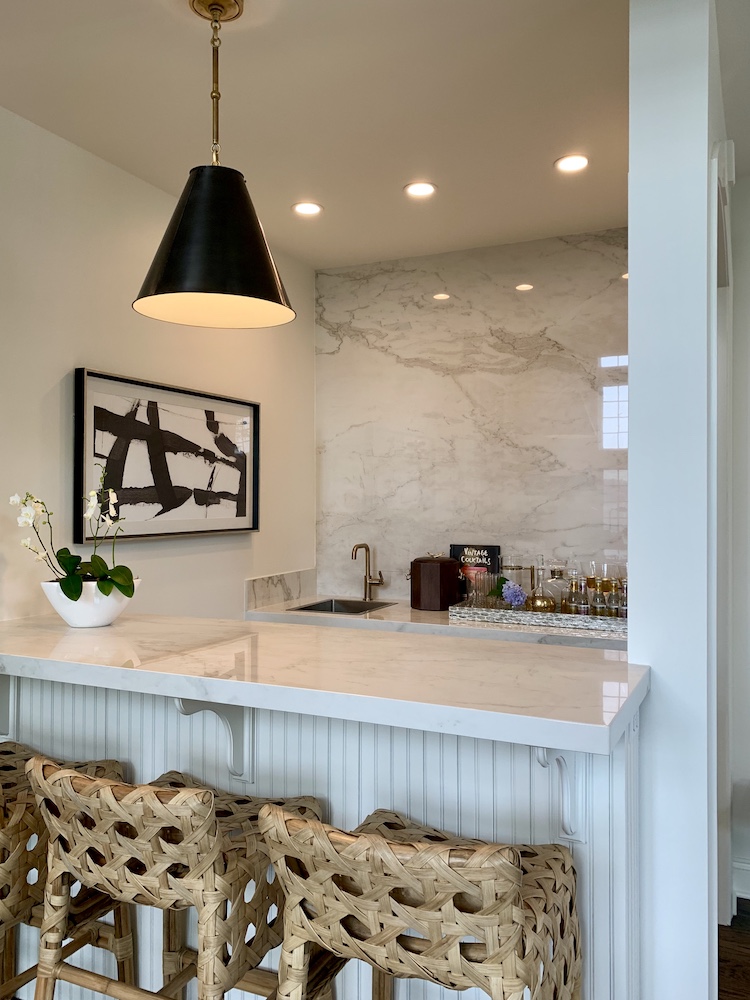 On another installation the granite slabs actually glide to reveal secret storage beneath a flawless Raw Urth stainless steel hood.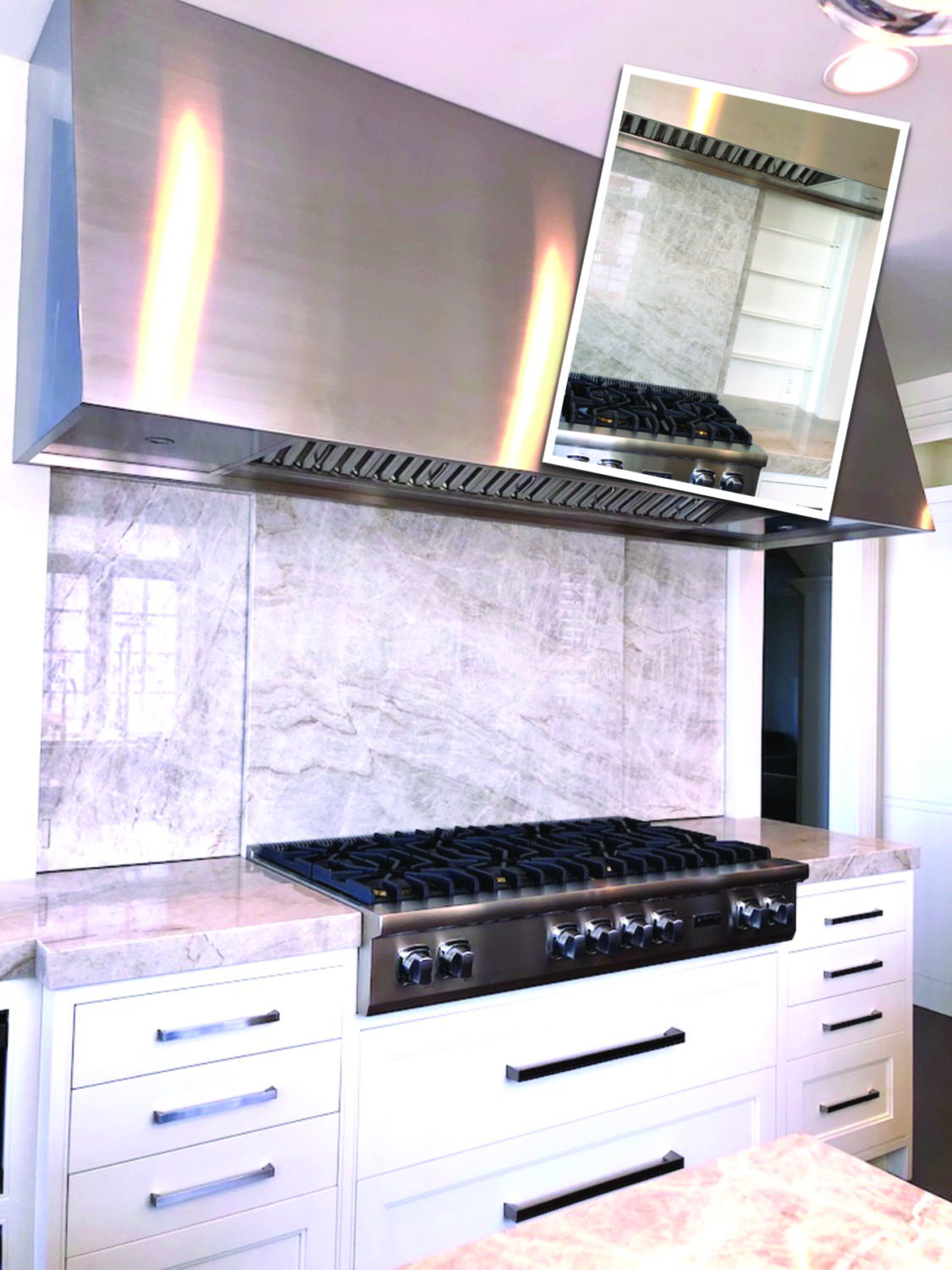 Take It To The Ceiling
The unbroken vertical line of a full height backsplash will visually lift the ceiling and expand the entire space.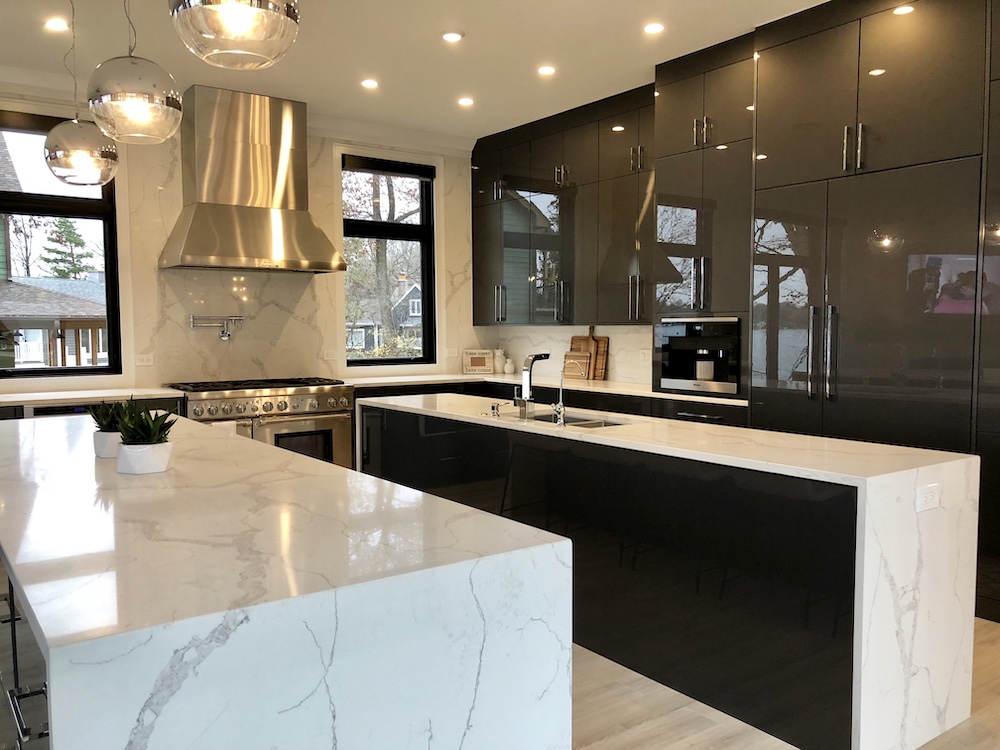 Similarly the full height backsplash as created with high gloss subway tile will brighten any room.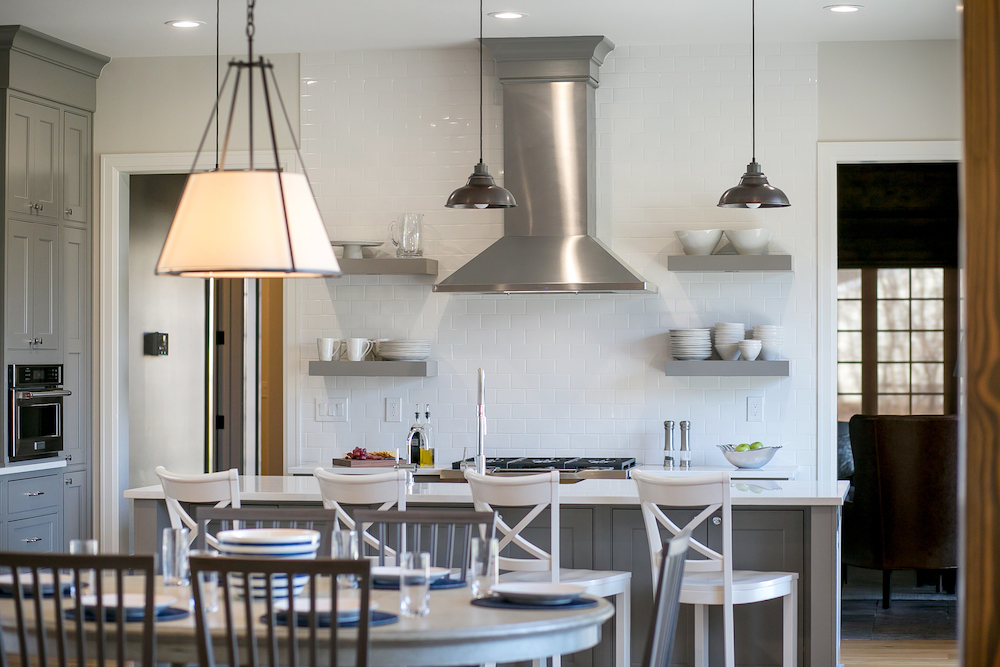 Pattern Play
Colorful patterned tile is another top trend.  This lively kitchen uses coral concrete tile as a beautiful way to infuse an otherwise neutral space with confident style.
Designed by Elizabeth Drake Interior Design and built by Lowell Custom Homes.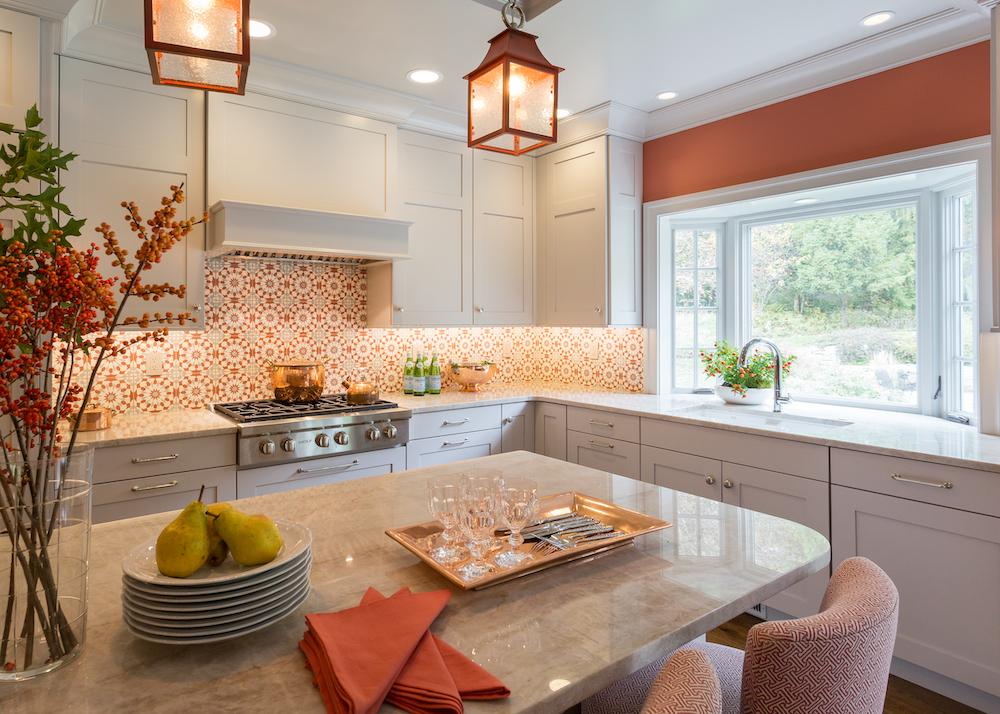 We employ this technique again to make a statement on a backsplash in a kitchen designed with Plato Woodwork, Inc. Cabinetry.  View the full kitchen here to see how the customer's  pottery collection inspired the design.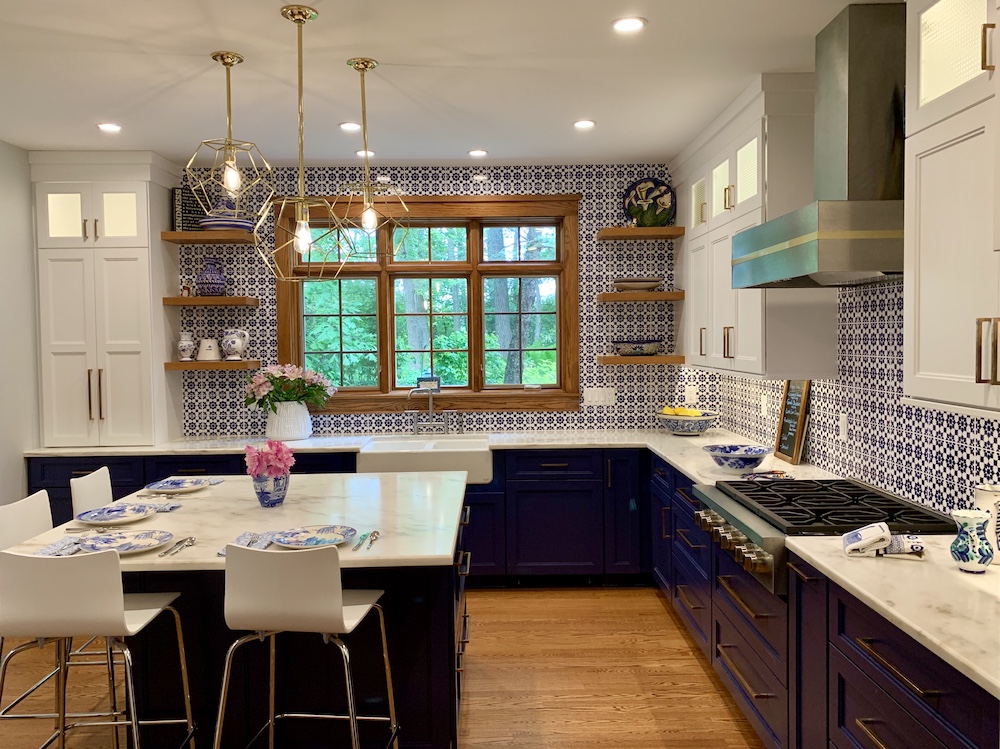 Shimmer & Shine
Adding a reflective material to the backsplash area will reduce shadows and introduce a delightfully unexpected note.  Under cabinet lighting can be added to magnify the effect.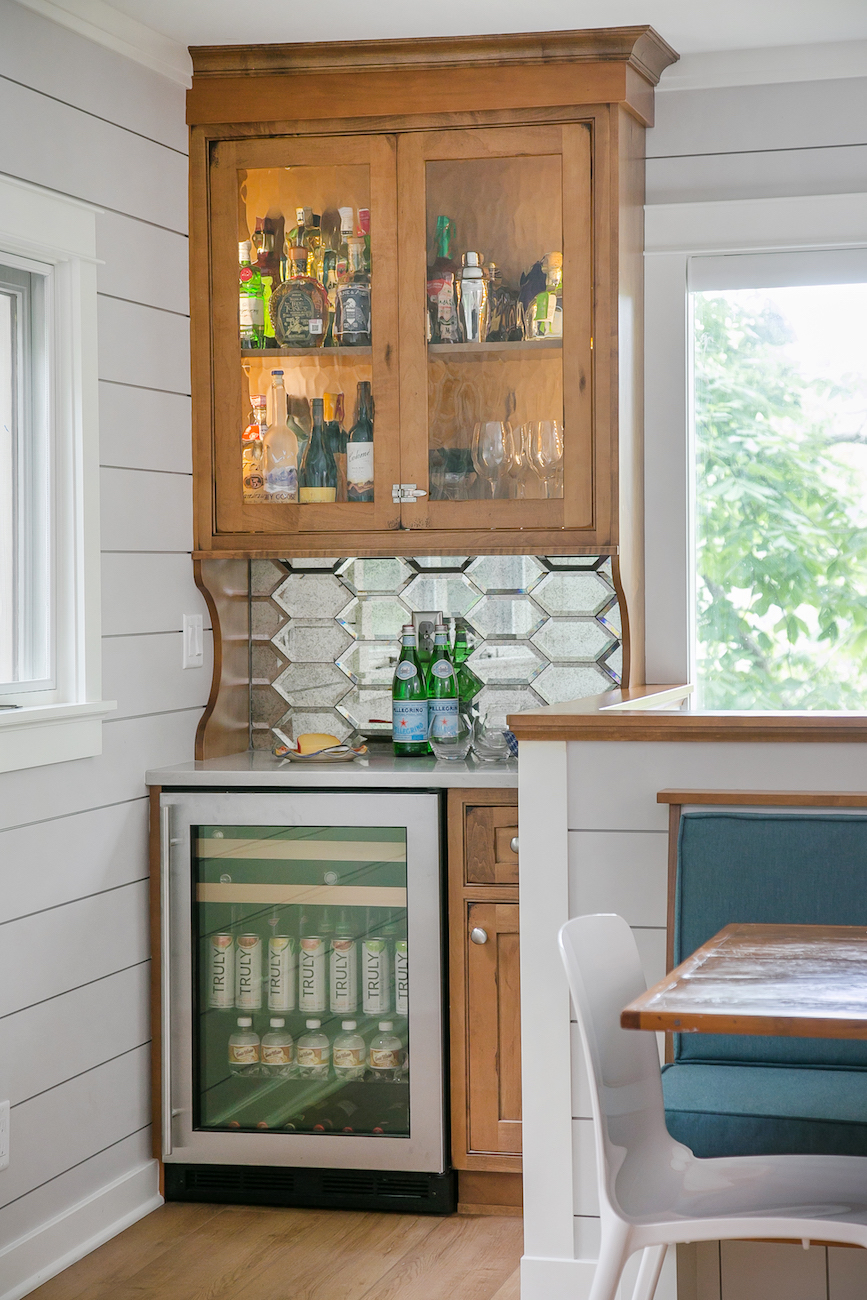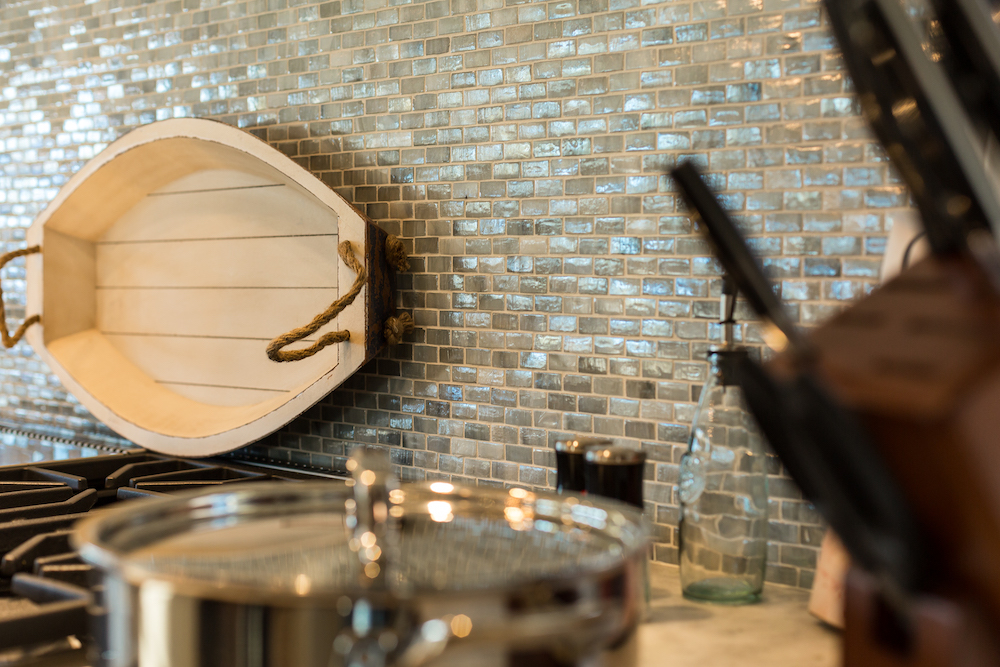 Shapely Patterns
Simplicity doesn't mean boring, especially when you achieve it with the use of a lovely shaped tile.   Honeycomb, arabesques, and other hand cut shapes add interesting texture even when used in a neutral color palette.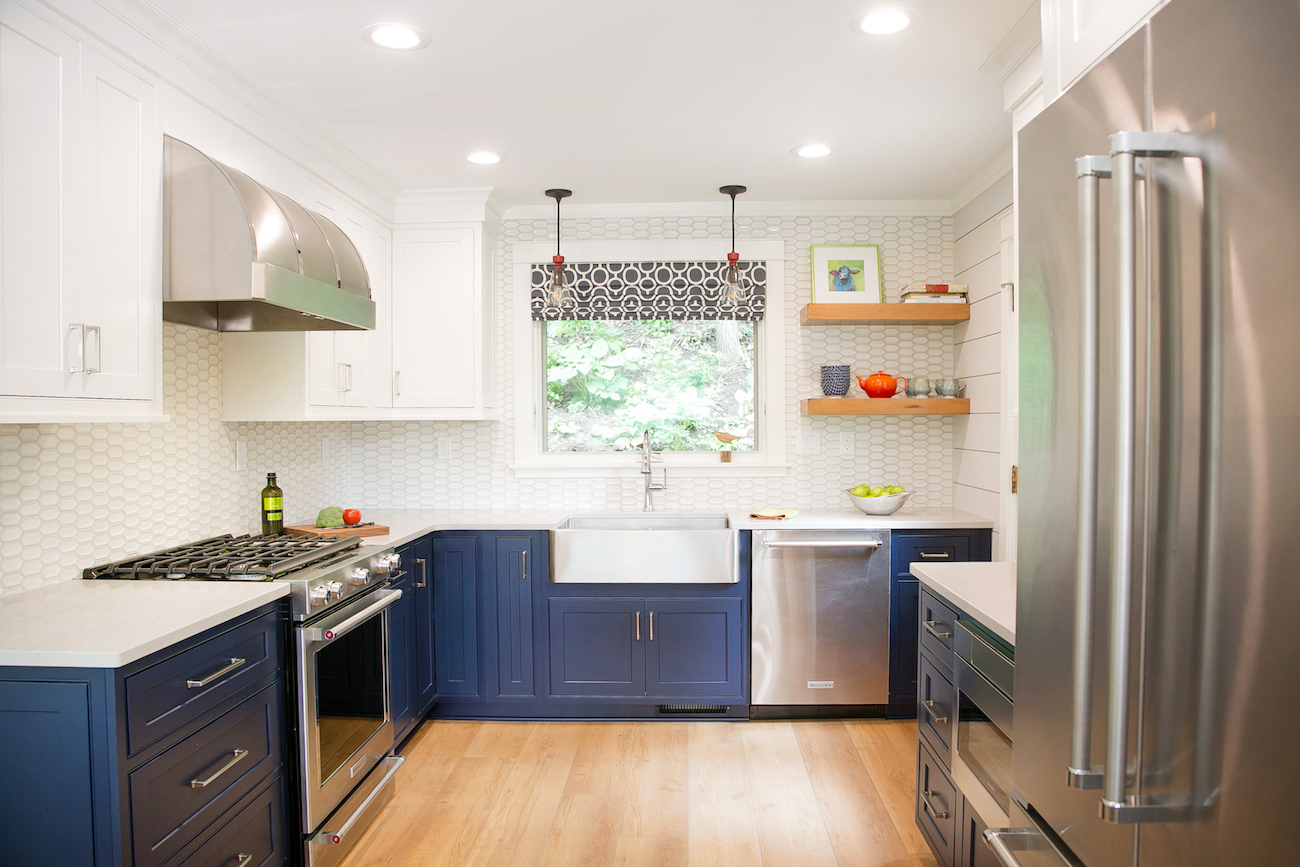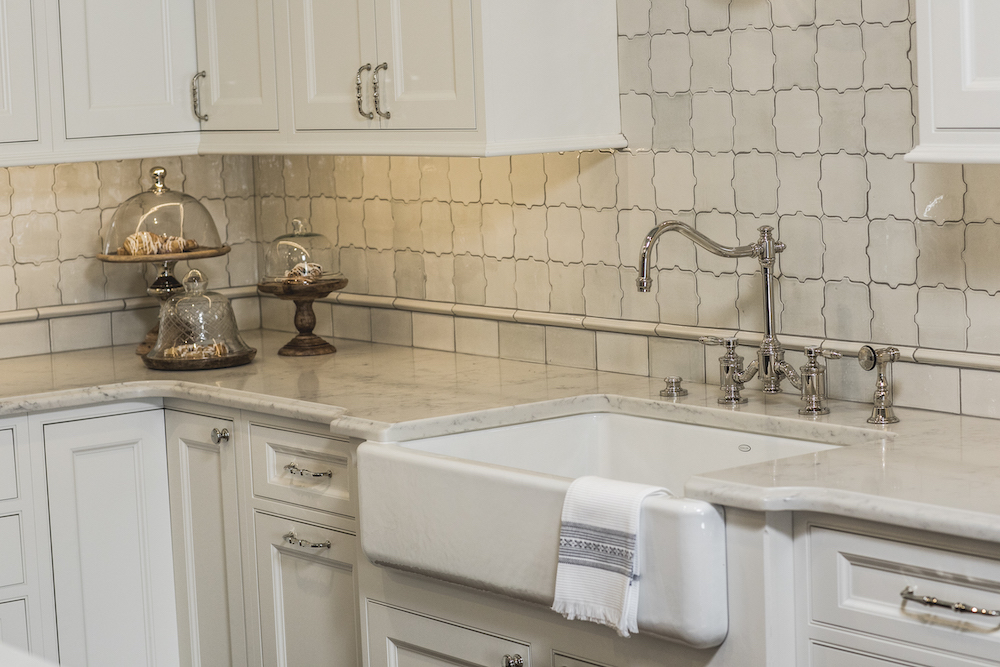 Classic Subway with New Point of View
Even with the many beautiful options for backsplash tile, subway remains a leader.  The 3 x 6 shape can be ceramic, porcelain or even a natural stone.  All of the varieties will create a classic and versatile look a variety of price points.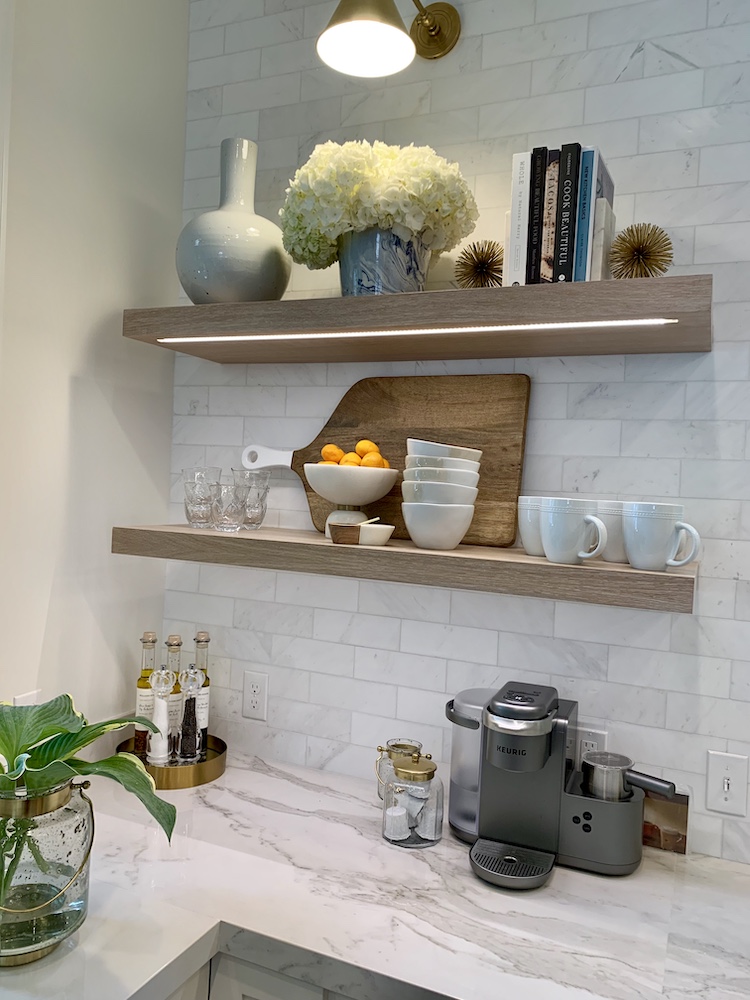 In contrast to the standard installation pattern,  the other possibilities will help you customize this appealing look.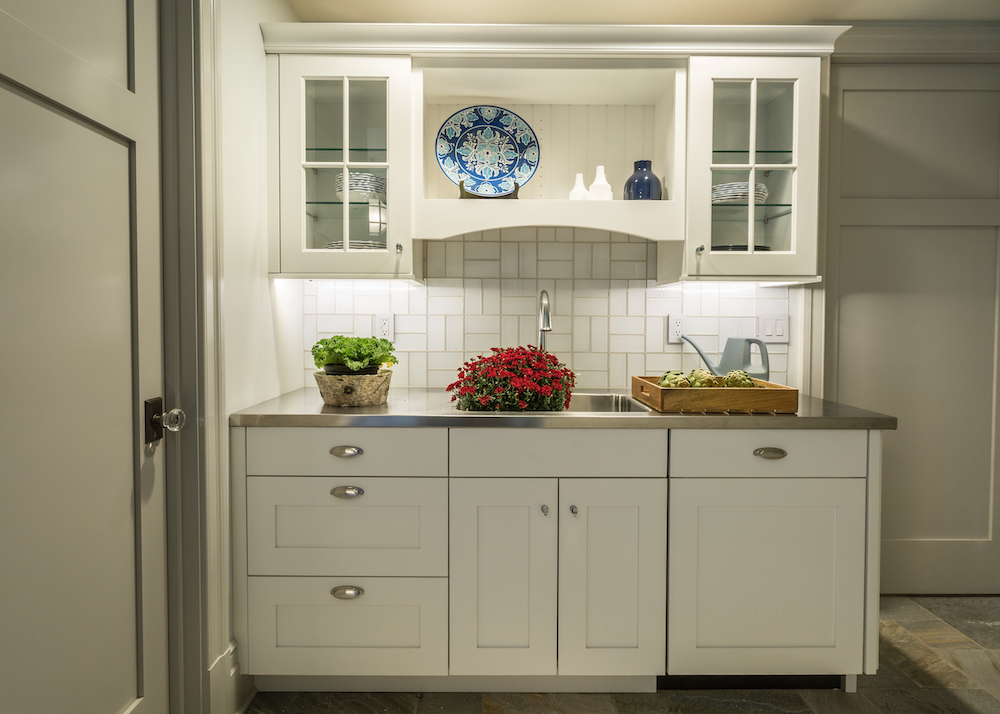 Material Mix Master
Blending different tile patterns can result in totally fresh statement.  Here the classic subway is enhanced with an insert of beautiful artisan tile.

Inserts of delicate stone mosaics create an interlacing border in a mesmerizing pattern.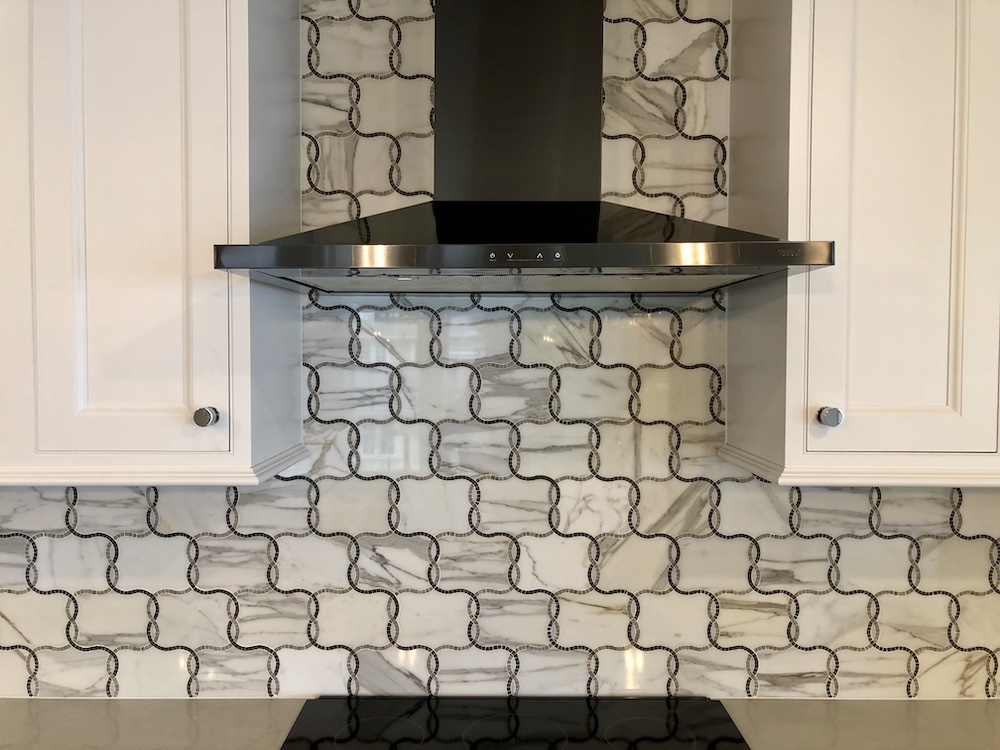 And the selective placement of tile can designates various activity zones within the kitchen.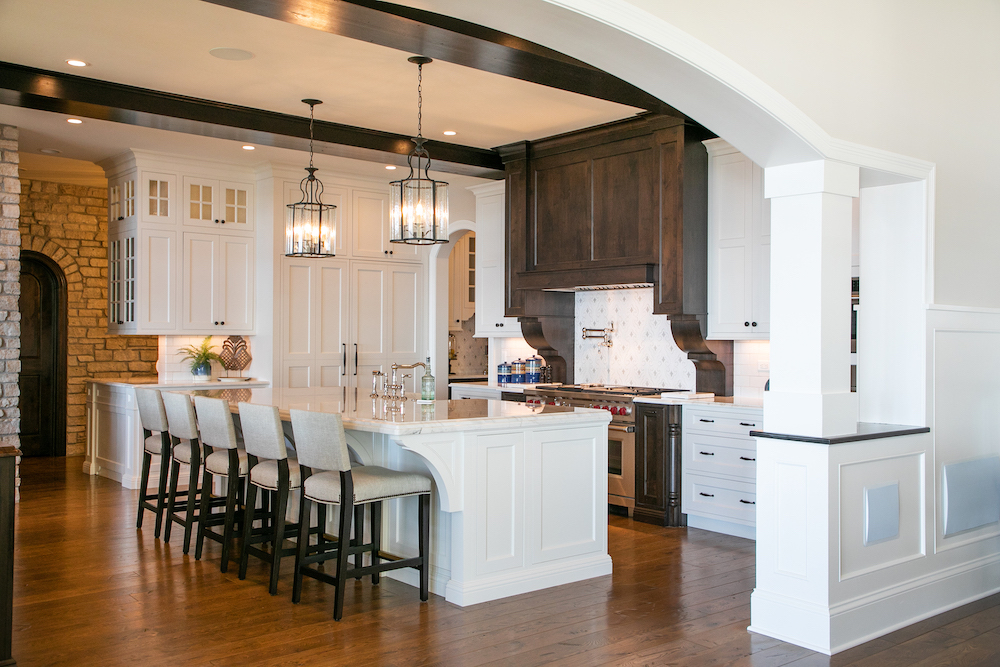 Make the ultimate statement in your kitchen with a backsplash, countertops and cabinetry that all present a unified design.  Our designers specialize in creative combinations and will customized one to your personal taste.  Learn more about the creative process and your kitchen design right here.
And learn about the options in countertop materials and how they perform here.
Photography by Shanna Wolf S Photography and Victoria McHugh
Explore our inspirational ideas here!
to experience cabinetry design and ideas for every room in your home!
201 Geneva National Ave S
Lake Geneva, WI
262-245-9600
https://genevacabinet.com/wp-content/uploads/2019/08/marble-subway-.jpg
1000
750
Geneva Cabinet Company
https://genevacabinet.com/wp-content/uploads/2017/05/geneva-cabinets.png
Geneva Cabinet Company
2019-08-27 14:38:38
2019-08-28 15:08:02
Kitchen Backsplash Trends to Inspire