Ahh, the Pros and Cons list.  An evaluation technique credited to Benjamin Franklin way back in 1772.  While it may have limitations for making decisions of the heart, it certainly comes in handy when comparing your options for countertops.     There are many attractive possibilities.   So, how do you choose the best countertop for your home?  Simple, just review our countertop Pros and Cons list and make your decision with confidence.    A word of caution, we are biased in the direction of beautiful!
Countertop Pros and Cons
Quartz Countertops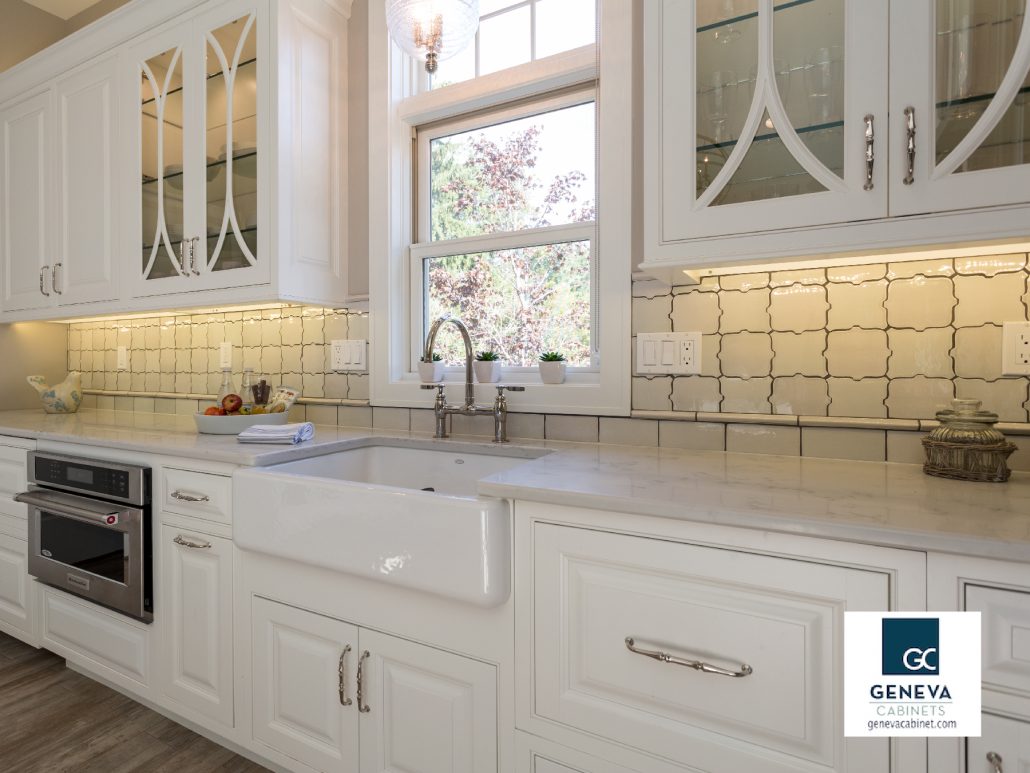 We begin with Quartz because it is easily the most popular countertop today.   It is often referred to as Engineered Quartz or Engineered Stone, and  frequently confused with Quartzite (more on that later).  The quartz mineral is fused with a combination of polymers, pigments and powdered or ground materials to form this extremely hard surface.
Pros
High Durability
Scratch & Stain Resistant
Bacteria Resistant
Easy to maintain
Non-Pourous ( will not absorb moisture)
Cons
Not as heat tolerant as Granite or Quartzite
Quartzite Countertops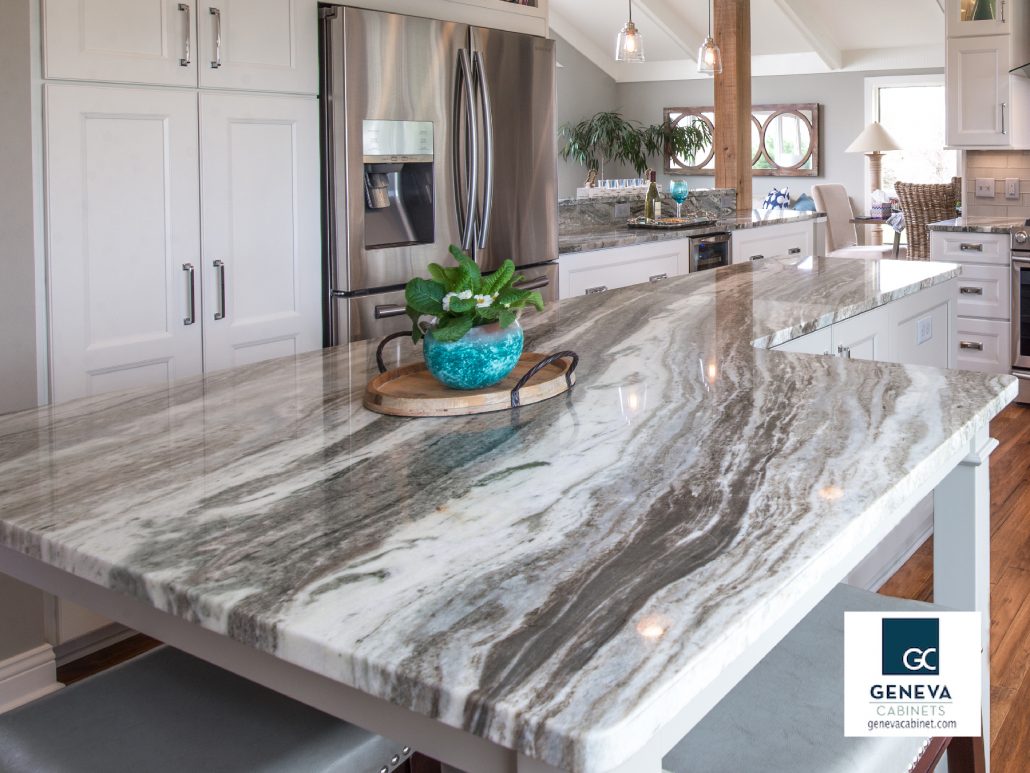 This is the real deal.  Quartzite is a naturally-occurring metamorphic stone and each slab will have the unique quality which is inherent to all natural stone surfaces.  Quartz crystals formed from sandstone were fused together by nature  millions of years ago.   The super strong statement material is one that we have come to love and appreciate,  especially for kitchen islands.
Pros
High Durability (harder than Granite and Quartz)
Scratch & Stain Resistant
Easy to maintain
Cons
This natural stone must be sealed
Granite Countertops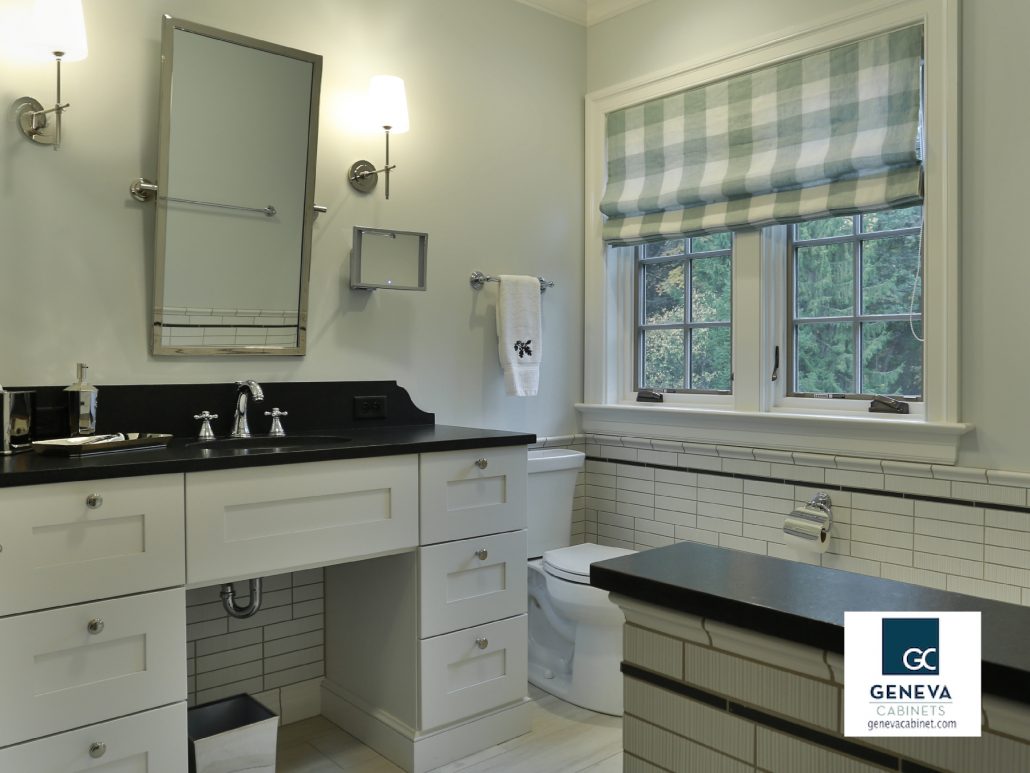 Granite is extremely durable and rarely scratches or chips.  Every slab will have a visual quality characteristic to the region of origin. It is a porous surface that can come pre-sealed or should be sealed yearly.
Pros
High Durability
Heat Resistant
Scratch & Stain Resistant
Easy to maintain
Cons
This natural stone must be sealed and may require resealing
Could be susceptible to staining from oils, citrus and alcohol
Extreme hardness may cause breakage if something is dropped on it
Marble Countertops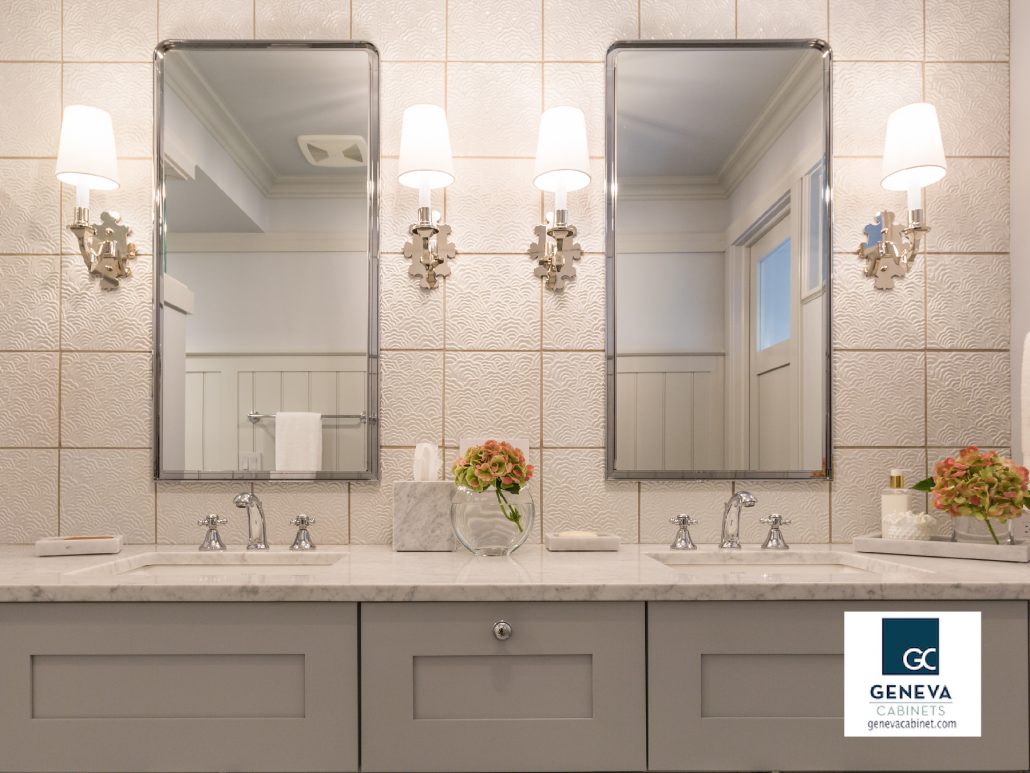 The ultimate choice for classic luxury.   It is a softer stone known for the rich patina developed over time.  Marble stands up to heat but is susceptible to staining.  The consistently smooth and cool nature performs perfectly as a pastry surface.
Pros
Will withstand some heat
Resistant to chips and dents
Smoothest surface – Ideal for pastry preparation
Develops a lovely patina
Cons
The porous surface may be susceptible to scratches or staining from acidic liquids
Sealing will need to be maintained
Solid Surface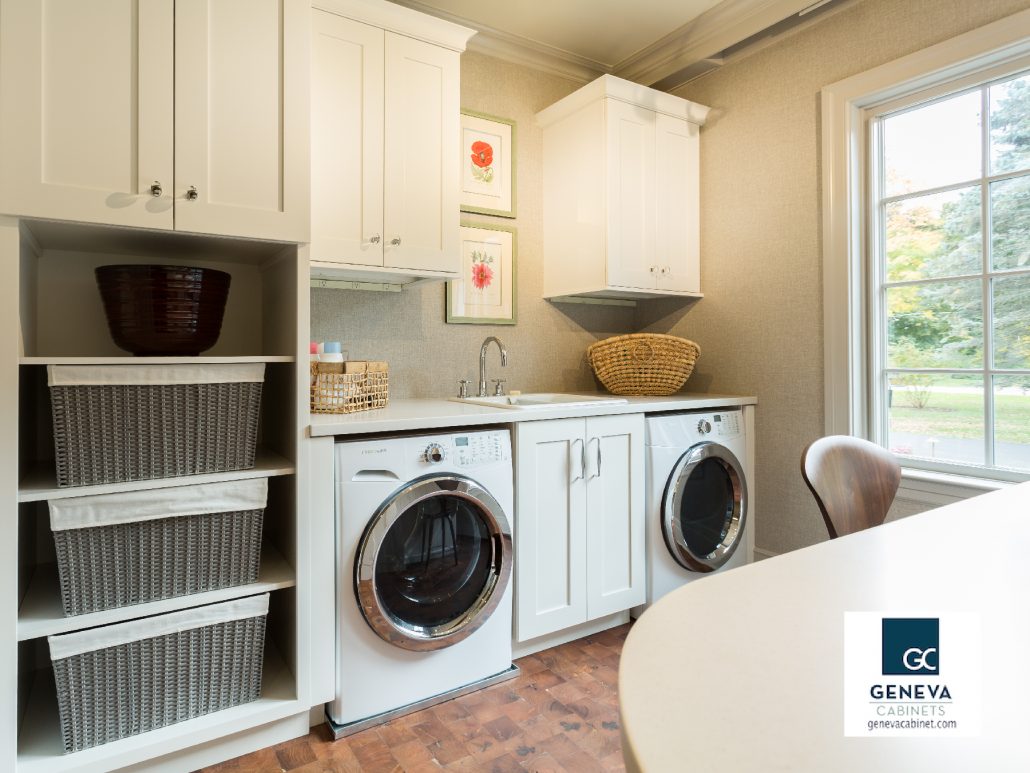 Here we have your Corian, and other brands that started the solid surface countertop revolution.  A wonderful variety of color and pattern is constantly evolving and improving.   The molded construction allows it to take on many shapes and accommodate an undermount or integral sink.
Pros
Durable
Resistant to mildew, bacteria and stains
Seamlessly accommodates integral sinks
Easy to maintain
Repairs are possible
Non-Pourous (will not absorb moisture)
Cons
Heat sensitive
Possibility of scratching
Glass Countertops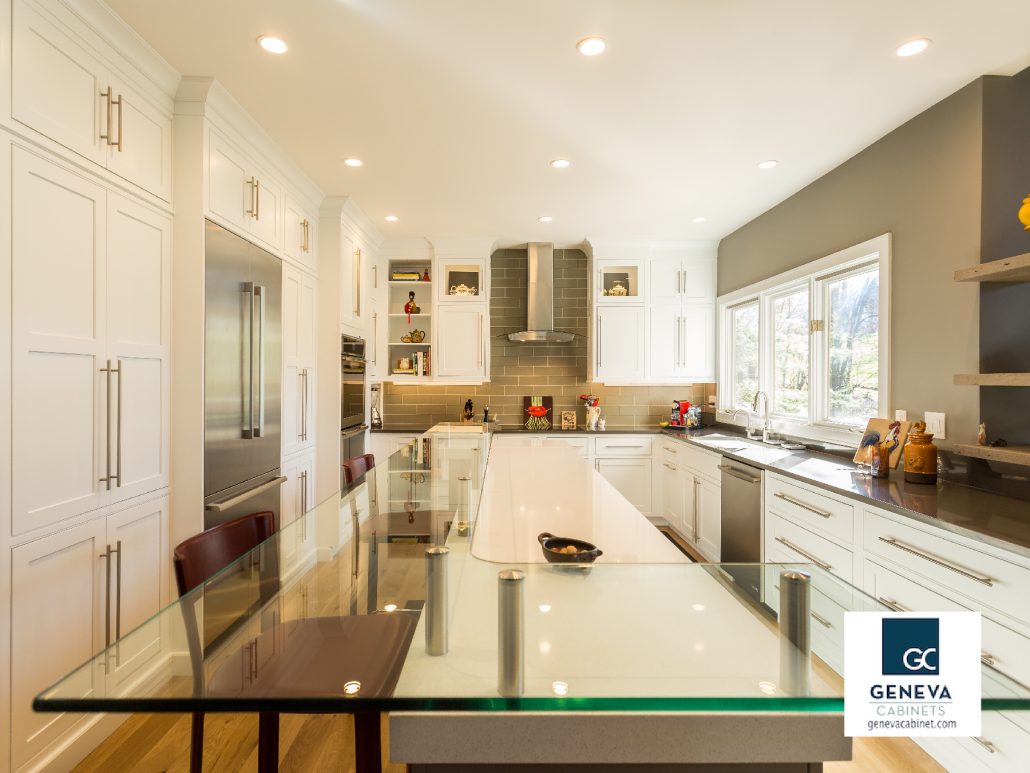 Glass countertops are a unique combination of function and art for a modern statement in the kitchen or bar area.  Custom designs will elevate your style with an open suspended quality.  The material can be translucent, colorful or texturized to create special effects like you will see from our friends at  Studio L Glassworks
Pros
Moderate Durability
Heat Resistant
Stain Resistent
Resists Bacteria – Extremely safe for foods
Cons
Susceptible to scratching or chiping
Stainless Steel Countertops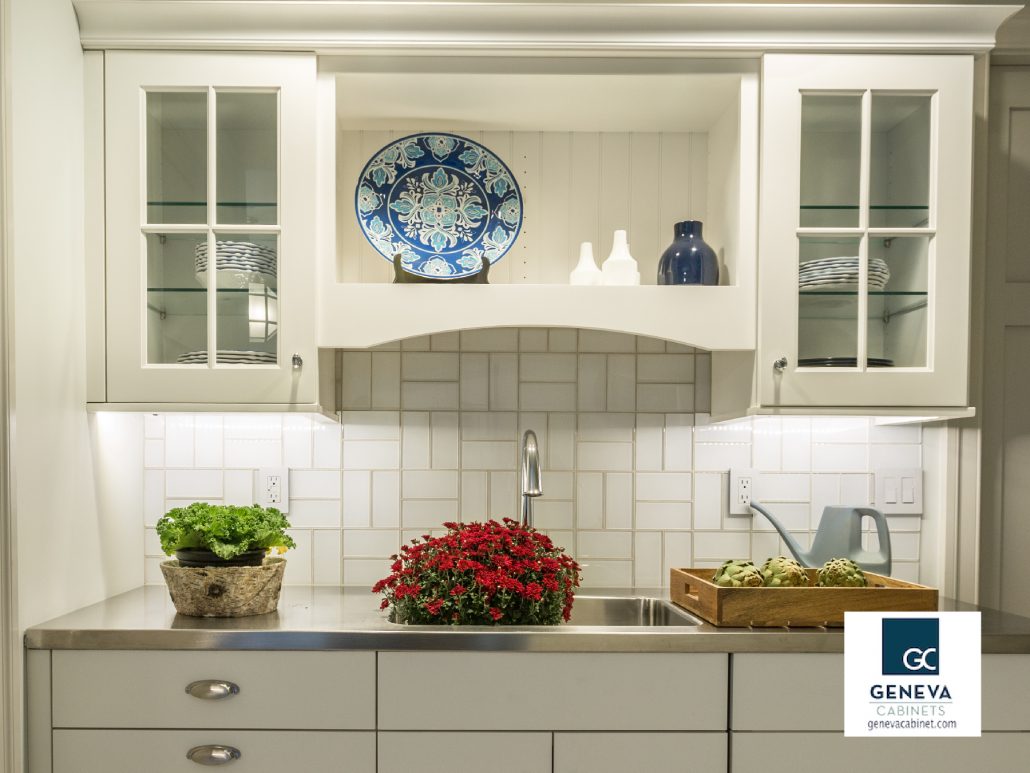 Add a Top Chef quality to any kitchen with the visual punch of stainless steel countertops.  Super hygienic and durable, these countertops can be integrated with stainless steel sinks and backsplashes for a seamless professional look.
Pros
High durability
Heat Resistant
Germ Resistant
Easy to Maintenance
Will not stain
Cons
Susceptible to scratches-but they can be polished out
Soapstone Countertops
Your science class lab table is reborn!  The sophistication of this natural stone is an up-and-coming look for modern and classic styles at home.  The color ranges from light to dark gray.  Like marble, the developing patina accounts for much of it's appeal to the organically inclined.
Pros
Heat Resistant
Food Safe
Stain resistant
Develops a stunning patina
Cons
Occasionally require treatment to seal and maintain appearance
Slabs are smaller and may require seaming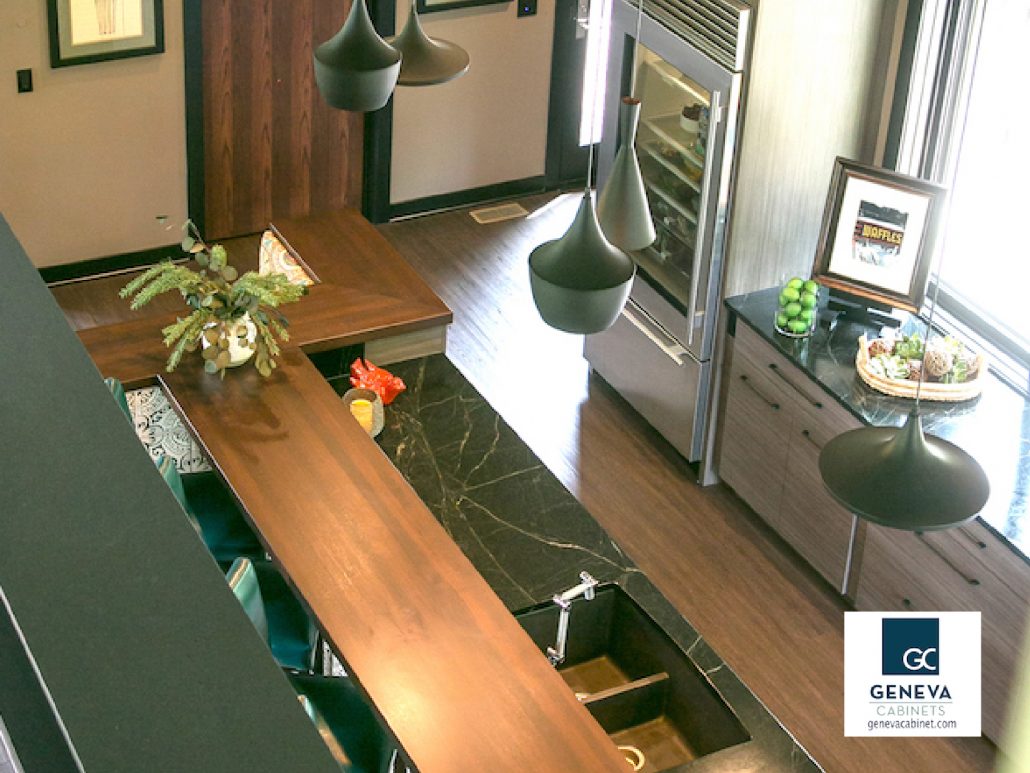 Wood Countertops
The allure of natural products is growing in popularity, especially when it comes to wood countertops. We specialize in natural wood countertops from Grothouse Lumber because they excel in beautiful construction with a wide variety of wood species.
Pros
Moderate durability
Natural Luxurious Appearance
Warm Appearance and Tactile Quality
Develops a warm patina
May be re-surfaced to restore appearance
Cons
Low heat resistance
Maintenance is needed
Should be sealed with a food safe sealer
Mixing and matching is an option that we whole-heartily support!  What better way to pair your favorite looks with the perfect functional application.   This will help you create a style all your own!
Do we have a clear favorite?  Actually, no.
Because it all depends on how the countertop will be used and where it will be installed.  It is one of the details that we love to address when designing the cabinetry for your home.
It is also the reason we have so many different countertops featured in vignettes around our showroom.  Here you can touch and feel the different options in materials to see how they look with various cabinet styles.  You will experience first hand the beautiful colors and patterns offered by each of the brands we feature.
The countertops you choose will add the final style statement to your overall design!
Stop in to see us!  We have great ideas for your home!
Geneva Cabinet Company, LLC
201 Geneva National Ave.S, Lake Geneva, WI
262-245-9600
SaveSave
SaveSave
SaveSave
SaveSave
SaveSave
SaveSave
SaveSave
SaveSave
SaveSave
SaveSave
SaveSave
SaveSave
SaveSave
SaveSave
SaveSave
SaveSave
SaveSaveSaveSave
SaveSave
SaveSave
SaveSave
SaveSave
SaveSave
SaveSave
SaveSave
SaveSave
SaveSave
SaveSave
SaveSave
SaveSave
SaveSave
SaveSave
https://genevacabinet.com/wp-content/uploads/2018/03/8-Wood-and-Soapstone.jpg
1125
1500
Geneva Cabinet Company
https://genevacabinet.com/wp-content/uploads/2017/05/geneva-cabinets.png
Geneva Cabinet Company
2018-04-02 10:18:32
2018-04-02 11:17:24
Counter Intelligence - How to Choose the Best Countertop