There are two types of kitchen people, those who love theirs and those who are under-whelmed every time they pass through.   Shouldn't you adore one of the most important rooms in your home?  It's possible to completely change your disposition with a kitchen remodeling assist from Geneva Cabinet Company, LLC.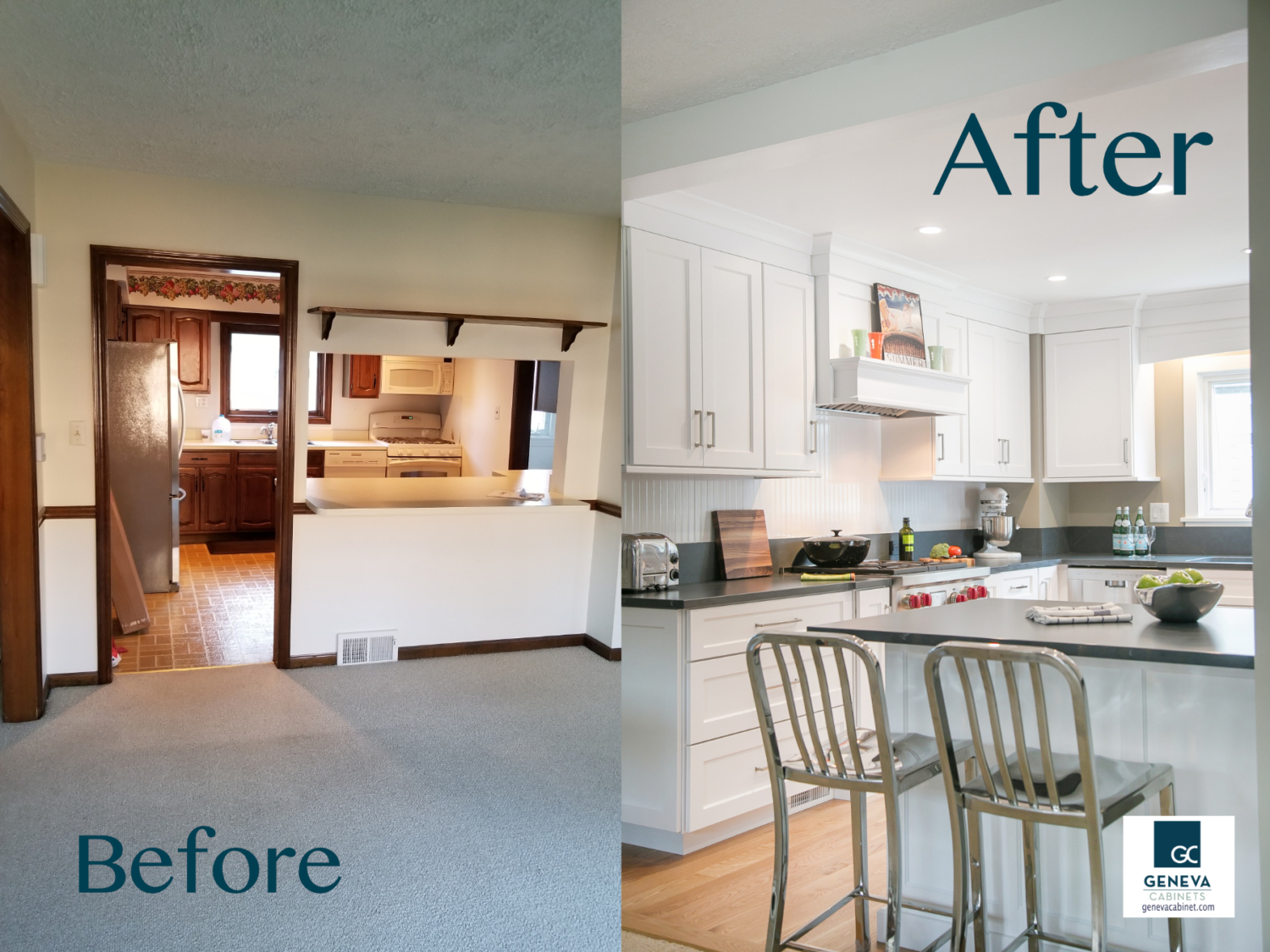 We're sure you've heard the advice, "start with a plan".  We like to simplify the planning process into tips that will change your BEFORE into an AFTER you love!
#1 Scrutinize your kitchen layout
What currently works and what just feels dreary? We recommend a comprehensive assessment to start you on the right track before you begin any kitchen remodeling project.
#2 Work with your existing footprint when possible
You'll notice in the floor plan below that we opened up the space by moving the bathroom to the outside corner.   A closer look reveals that the plumbing is actually in the same location.  Any time you can renovate a room without disturbing plumbing you are on the side of savings.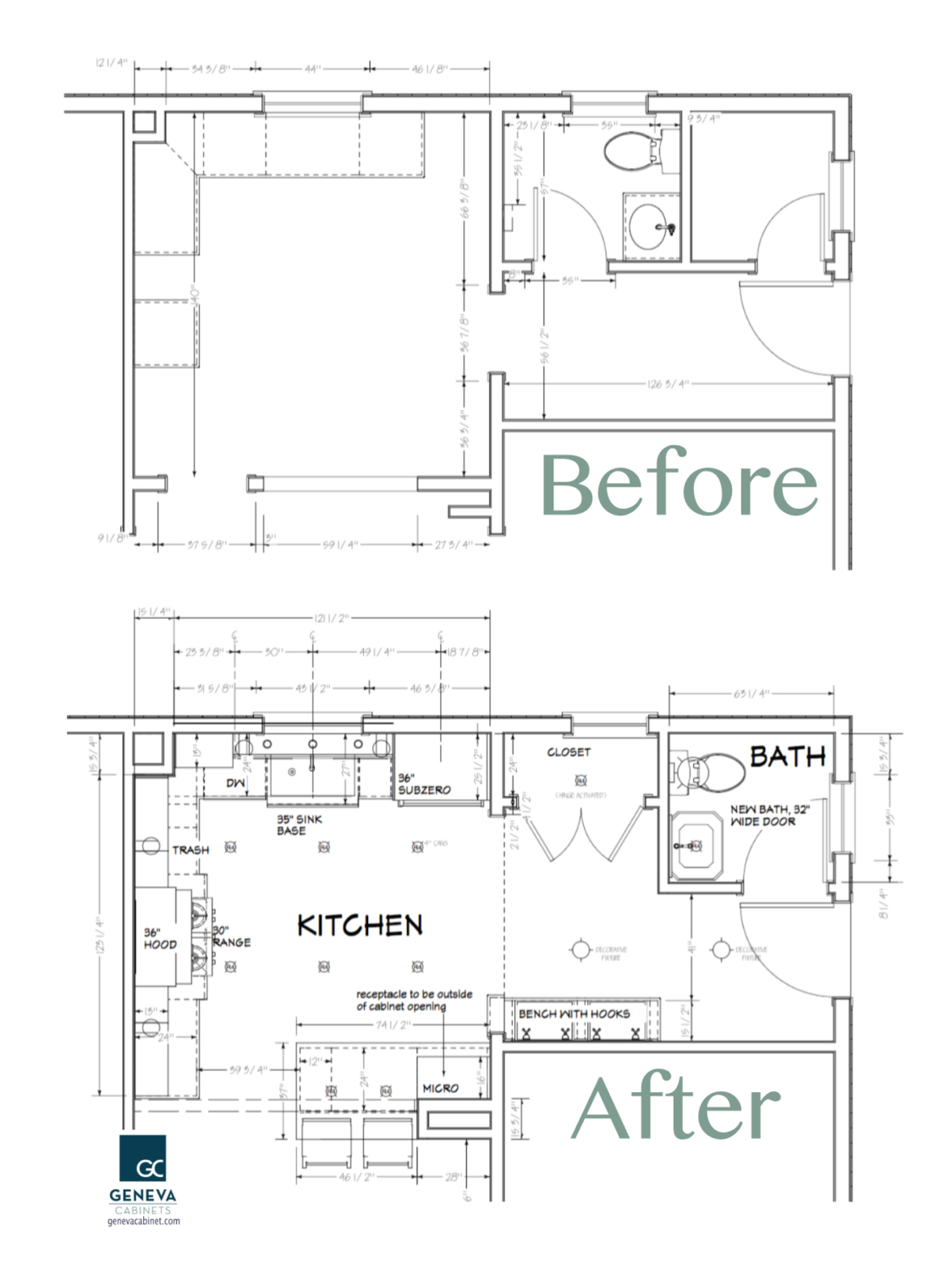 #3 Consider traffic patterns and work flow to avoid bottlenecks
Yes, the kitchen work triangle is still relevant.  Start by considering the choreography of people who are in the kitchen together.  Don't force everyone to wiggle around obstacles, and each other.  Notice that the refrigerator in this AFTER plan has been moved to the outskirts of the work triangle to avoid a crash and possible burn near the cooking surface.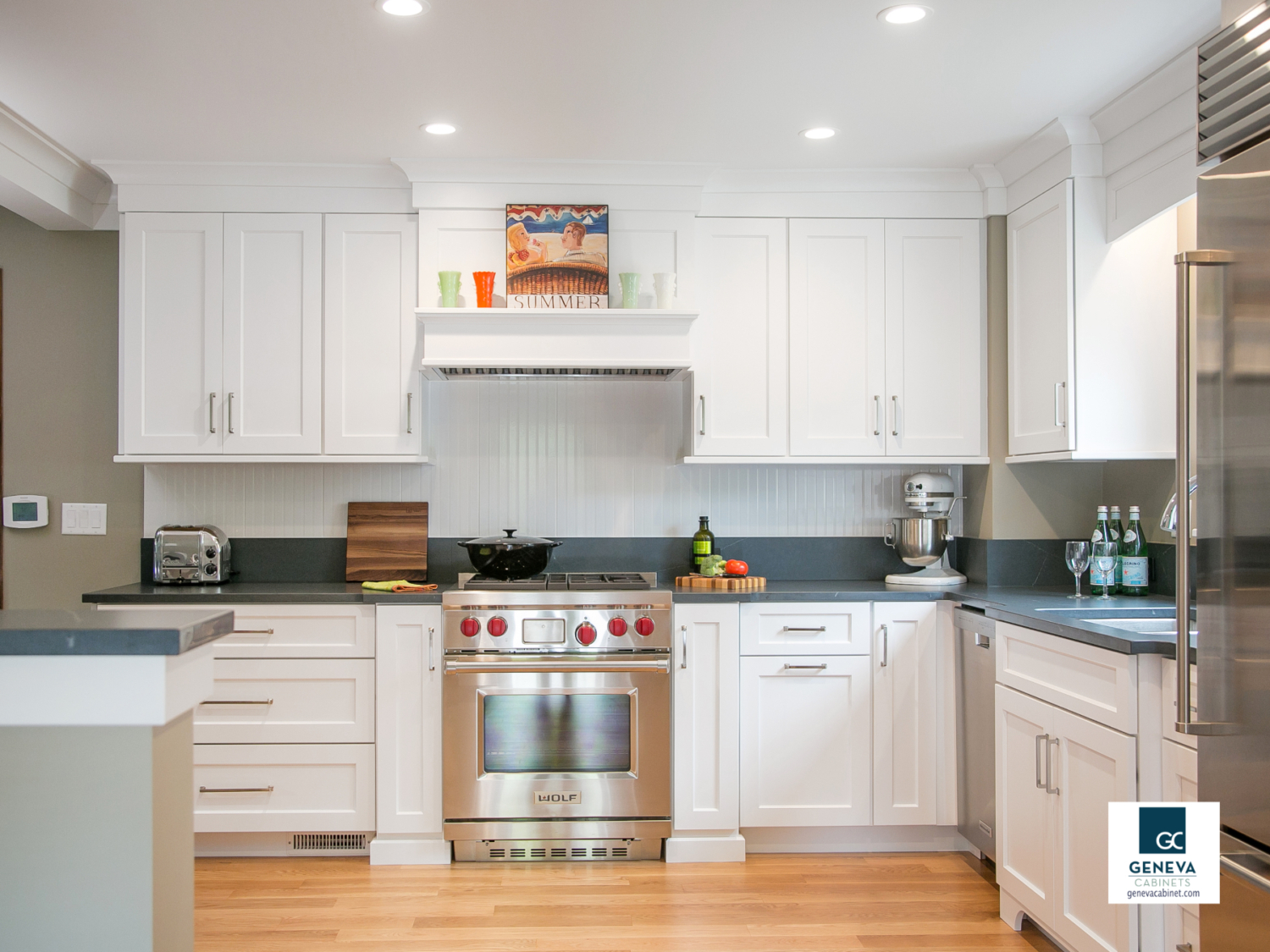 #4 Add storage not just space.
We're not saying that because we sell cabinetry.  It is more cost efficient to maximize storage space without adding square feet.  We like to design with tall cabinets that reclaim wasted wall space. They are perfect for storing seasonal and rarely used pieces. For more storage ideas click here.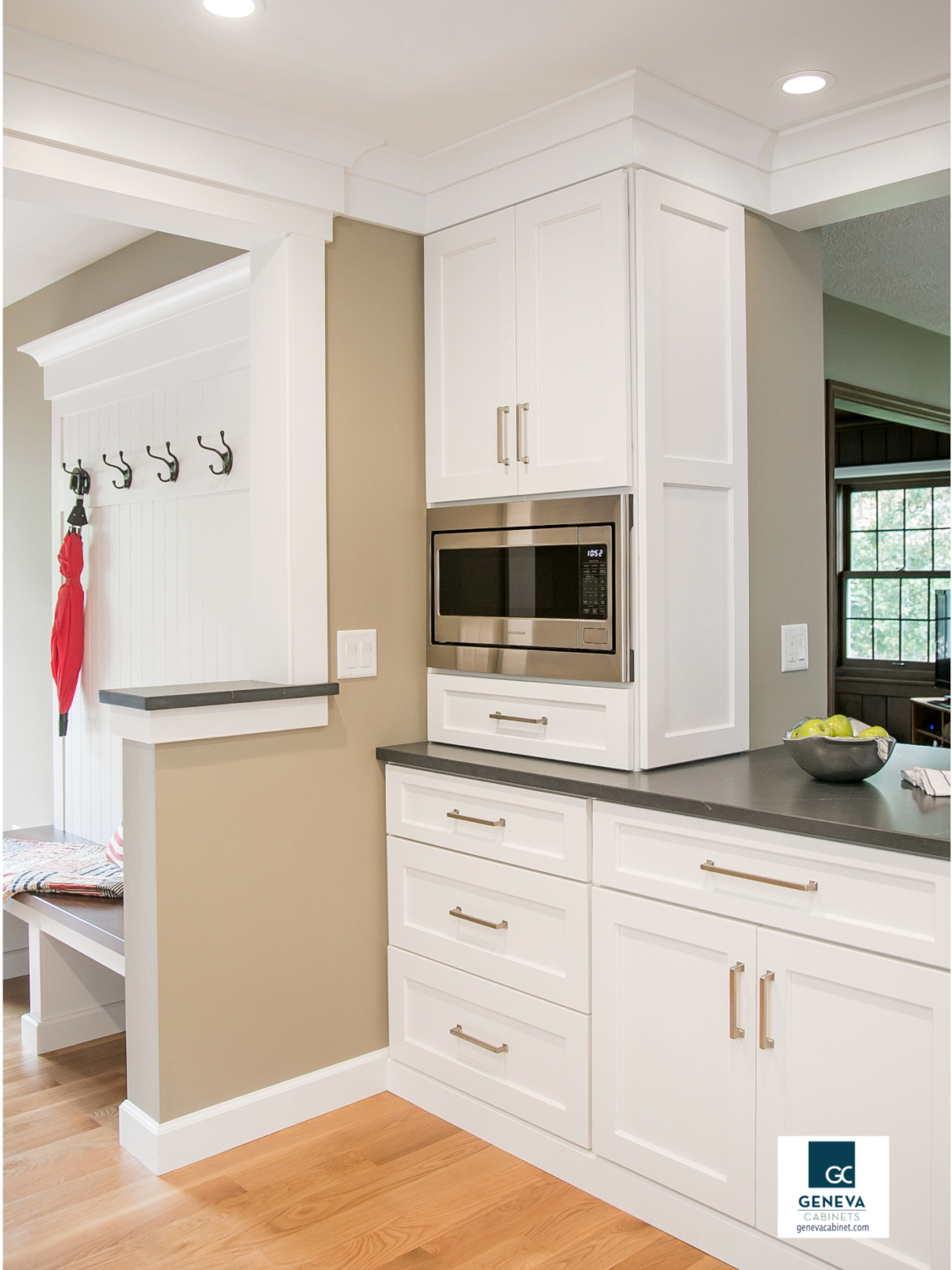 #5 Configure for Convenience
Doors or drawers? It's important to know how you will use each area before you choose the type of cabinet storage.  Drawers offer natural organization and easy access.  Cabinets are ideal for versatility and storing bulky items.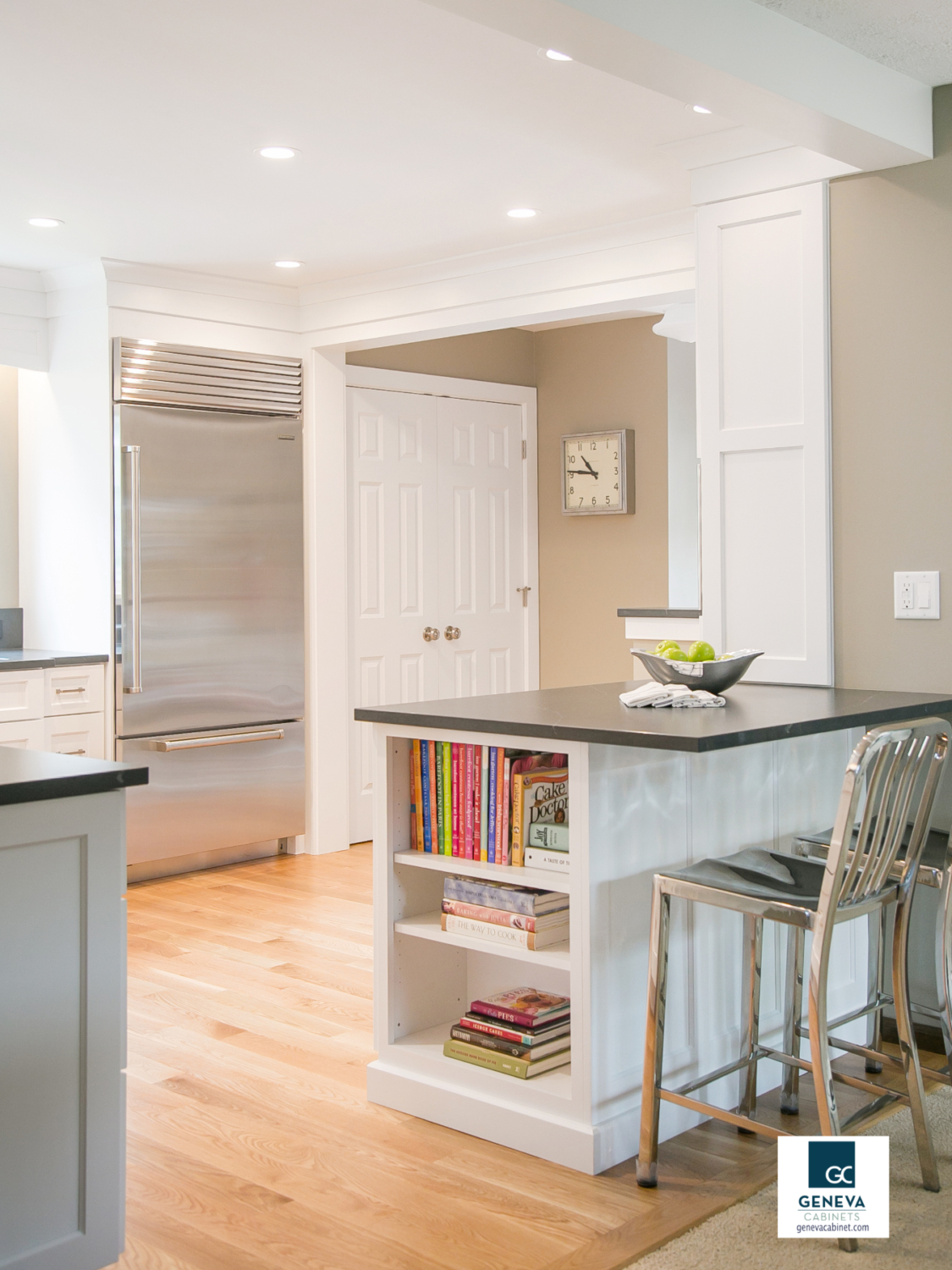 #6 Keep It Open
You  will use things more often when stored on open shelving for top-of-mind awareness.  Even the interior of your cabinet door can be updated with visible storage for often used condiments.
#7 Divide and Conquer
Move over Maria Kondo, we have organization tools that will definitely change your life.  Not only do door and drawer organizers keep you efficient, just opening the cabinet will give you joy!
#7 The Landing Zone
To keep the entire home clutter-free we love the idea of a landing zone, this one is just off of the kitchen.  Dedicating a space to collect things like keys and jackets will keep your home tidy.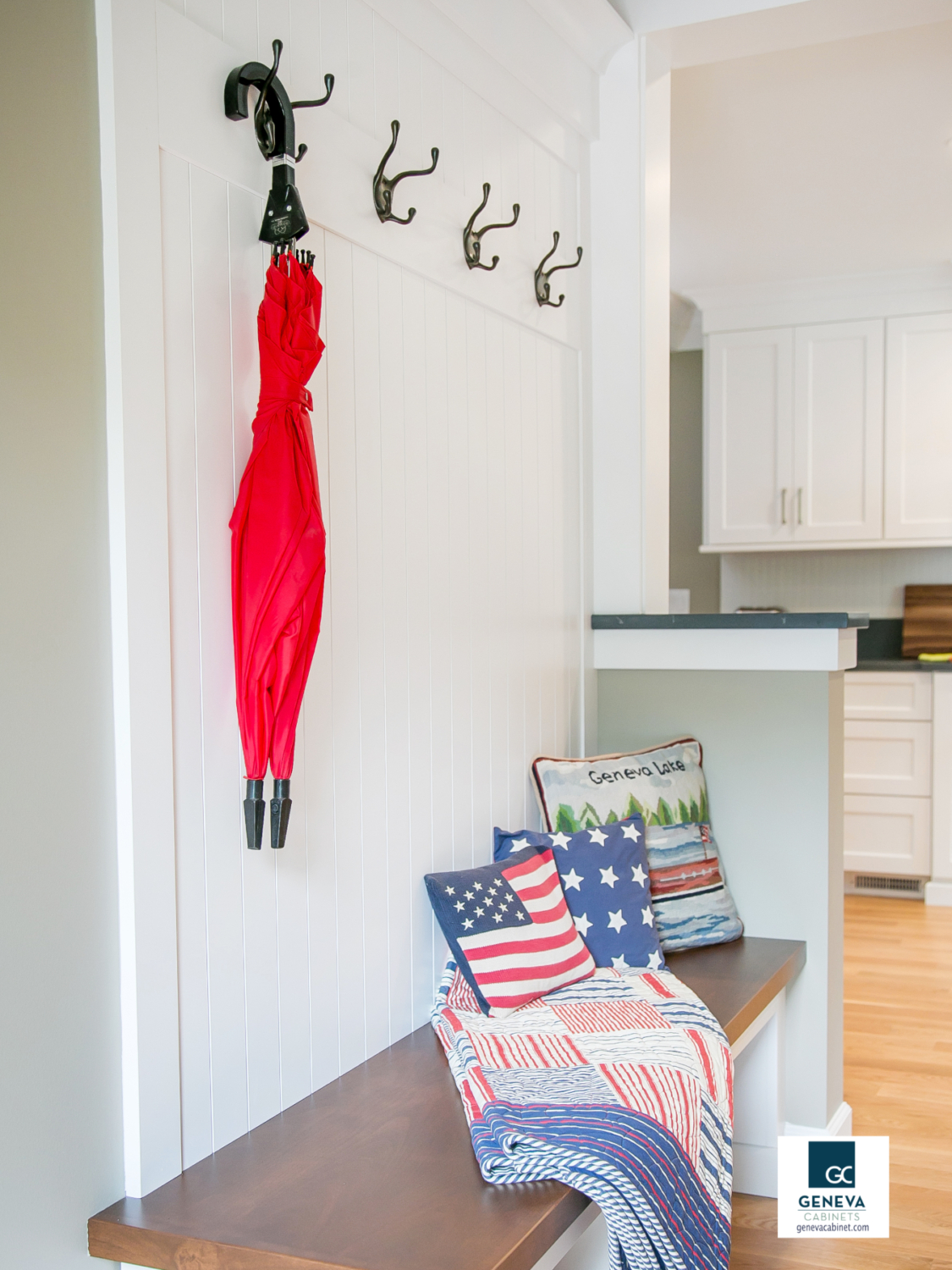 We thoroughly enjoyed working with Schilthelm Builders on this kitchen remodeling project! Cabinetry from Plato Woodwork, Inc. was used in their crisp Arctic White finish on the Artisan style door.
Enjoy this kitchen from every angle right here in a video that walks you through Before, Elevations and After.
SaveSave
SaveSave
SaveSave
SaveSave
SaveSave
SaveSave
SaveSave
SaveSave
SaveSave
SaveSave
SaveSave
SaveSave
SaveSave
SaveSave
SaveSave
SaveSave
SaveSave
SaveSave
Photography by S Photography – Shanna Wolf
Kitchen Design by Natalie Spiniolas
We have even more  tips and ideas for your home!    Take a look at our Get Started guide then stop in to explore the beautiful products on display in our designer vignettes.
Geneva Cabinet Company, LLC
262-245-9600
SaveSave
SaveSave
SaveSave
SaveSave
SaveSave
SaveSave
SaveSave
SaveSave
SaveSave
SaveSave
SaveSave
SaveSave
SaveSave
SaveSave
SaveSave
SaveSave
SaveSave
SaveSave
SaveSave
SaveSave
SaveSave
SaveSave
SaveSave
SaveSave
SaveSave
SaveSave
SaveSave
SaveSave
SaveSave
SaveSave
SaveSave
SaveSave
SaveSave
https://genevacabinet.com/wp-content/uploads/2018/07/Streed-12.jpg
1000
1500
Geneva Cabinet Company
https://genevacabinet.com/wp-content/uploads/2017/05/geneva-cabinets.png
Geneva Cabinet Company
2018-07-24 08:08:37
2018-07-26 08:31:49
Kitchen Remodeling Tips to Get the Kitchen You Want