The skillful pairing of bathroom vanity and mirror can take your room from basic to beautiful.   We help you narrow down the options with these stunning examples of complementary selections.  They all strike a perfect balance between function, proportion, and style.
Circle Gets the Square
An inconvenient window turns into a surprising backdrop for a suspended round mirror.  As a bonus, the window provides natural backlighting every time you take a peek at your reflection. The crisp blue and white scheme with navy vanity anchors it all with charm.
Timeless Classic
Keeping it timeless often translates to traditional design.  Here a spacious double vanity is accented by rectangular mirrors with inverted corners for just enough detail to make a statement.
Modern Moment
Clean modern lines are the refined choice in this primary bath vanity and mirror.  Notice how the exquisite tile from Ann Sacks can then take center stage.
Nature's Calling
Deep woods serenity is expressed with a richly stained vanity and dusky paneling.  Woodland wallcovering and an impressive birch framed mirror are perfect companions.
Tight and Tidy
Not an inch goes to waste in this compact bath.  Flat panel cabinet doors display the natural wood grain while the full backsplash mirror expands the niche.  Sconce lighting is mounted directly to the mirror to save space and reflect even more light.
Spanish Colonial
When more is more.  Old world details anchor the vanity and are replicated in the carved mirror for perfect balance.
Modern Geometry
Repetition is a favorite designer secret for a cohesive statement in any room.  Here the circle is bisected and then directly repeated in the mirror with a subtle echo by light fixtures.
French Country
The French styled vanity with acanthus carving is paired with a mirror that reflects Parisian elegance in its silver embossed frame.
Modern Nautical
A campaign inspired chest is ideal for this bath with a nautical theme.  Blue and white cabana striped wallcovering offers a bold background for the refined carved rope mirror.
Artistic Expression
When the mirror is a one-of-a-kind Murano Glass art piece, the vanity should play a supporting role.  Here classic traditional cabinetry is the perfect fit.
Industrial Vibe
A hammered copper trough sink inhabits this vanity to deliver a modern industrial mood.  Gliding mirrors on barn door hardware top it off with a clever practical solution.
When All Else Fails
When you just can't find the right mirror, we have a solution.   Mount a flat mirror to the wall and trim it out with a wood frame.   Or, as in this case, use an interesting backsplash tile like this one from  Bella Tile and Stone.
For more inspiration visit our Gallery here
And set up an appointment to discuss your personal home design needs by contacting our showroom here.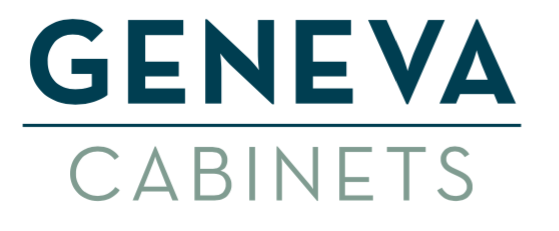 https://genevacabinet.com/wp-content/uploads/2022/06/header-scaled.jpg
792
1500
Geneva Cabinet Company
https://genevacabinet.com/wp-content/uploads/2017/05/geneva-cabinets.png
Geneva Cabinet Company
2022-06-22 12:11:12
2022-06-22 12:11:12
Perfect Pairings - Vanity + Mirror